1) Free stuff. There's really no need to elaborate. We all love free stuff!
2) Makeup. As you're all aware. And if you're not, then you REALLY don't know me very well.
I've always loved makeup. Love, love, LOVE.
I used to wonder how everyone was able to get their eye shadow to be so fabulous with different colors and shades and not look like a clown. Cause that was totally what happened to me when I'd try more than one or two colors, especially if it was a darker shade.
Turns out I just didn't have the correct tools. Those little sponge-tip applicators? No good (well, not much). Good quality brushes make a HUGE difference. No wonder the one super cheap brush I had did nothing for me. And I needed a primer, that's why everything creased and eye liner NEVER stayed on and eventually melted all over the place.
I also needed someone to show me the correct way to apply shadow. Yes, there is technique involved but it's very simple to learn. It's all about patting your shadow onto your lid with a brush and then little tiny circles to blend.. the windshield wiper motion that I ALWAYS did before? It's rarely used now.
Now, where did I learn all of this from?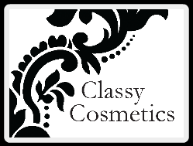 My super cute and multi-talented friend Janae (is there anything she can't do???) went on a mission for her church to Russia and one of the other missionaries there was Jen, the blogger of Classy Cosmetics. Jen is so, so much fun and does an excellent job of teaching you everything in a way that you'll understand. Her video tutorials are also a huge help so you can SEE how to make everything come together. She does a wide variety of looks and happily takes requests. She also covers basic things like doing your brows (I do my brows every day even if I do nothing else), color charts (buh-bye circles under my eyes), getting a fantastic red lip (although I still result back to my nude gloss) and applying false lashes (so fun!). You have a question about ANYTHING that deals with your face? She'll answer!! Jen is also working on some 5-minute looks for those of you who don't have much time to spare.
So this is where the "two things I love" comes into play.. the more followers that Classy Cosmetics has, the more FREE GIVAWAYS that Jen can do! I hardly ever win so I really need a lot of chances..
All I'm asking is for you to hop on over to her blog and then please, please, please become a follower. PLEASE? For me? If you're even slightly interested in makeup you will enjoy her blog, I promise! And if you win, can I come over and play?? I'll bring clean brushes....
Also, if you're in my neck of the woods and aren't understanding something or need a little help, I would be MORE than happy to pass on what I've learned. Anytime!